Coaches,
Scores from each contest should be updated no later than one week after the contest date. Any scores submitted after this time period will not be accepted. Starting in Spring 2019, we will use Google Spreadsheet for score submitting. We will send out the share link of the scoring sheet to coaches by email, the coach email from the registration form. All the team information in the scoring sheet are based on the registration form we received. If you don't receive the share link or have trouble to access the sheet, please let us know.
The scoring sheet should be filled in the following way: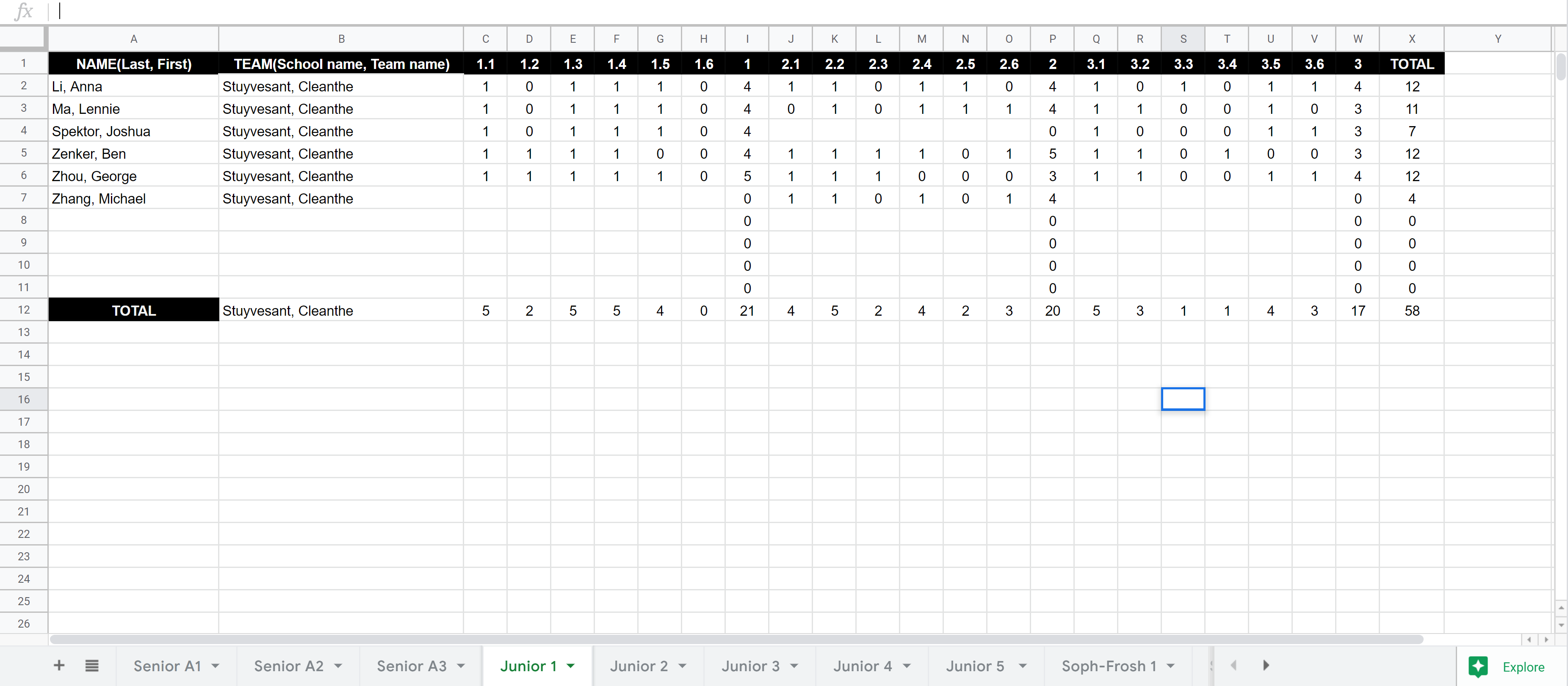 The student's name should be shown as LAST NAME, FIRST NAME and the team name should be shown as SCHOOL NAME, TEAM NAME. The question number is formatted as THE MEET NUMBER, THE QUESTION NUMBER, for example, question 2.3 represents the third question in the second meet. If the student gets the question right, you may type "1" in the matching cell. If the student gets the question wrong, you may type "0" in the cell, DO NOT leave the cell BLANK. A blank is used only when a student did not take a contest. If your school has more than one team, you can find the other teams' sheet by clicking the button showing the team's name at the bottom of the sheet. Only the five students' scores in the team should be submitted. Please follow the direction and fill out the form correctly, it will save lots of time for us, we really appreciate your effort.
If you have found that you submitted a score incorrectly, you can change the score in the sheet directly but please let us know the changes that you have made, otherwise it won't be counted.
Here are five things that you need to be aware of:
Please use capital for the first letter of each name
Please don't change anything that already exists in the form, including format, cell, font, font size, font color, our scoring algorithm is written to read that particular format we sent you.
If you want to leave a comment, feel free to email us anytime but DO NOT write in the sheet
Five active members of a team should be decided, entered to the form before the score submission for the first contest and five active members of the team CANNOT be changed during the semester.
You may submit substitutes' score for some contest and only that particular contest if some of the five active members are absent. Otherwise, only those five active members' score will be accepted.
If you have any question, concern or suggestion feel free to email us at exec@nyciml.org at any time. We are trying our best to making the most convenient way for you.
Thank you,
The NYCIML Executive Committee